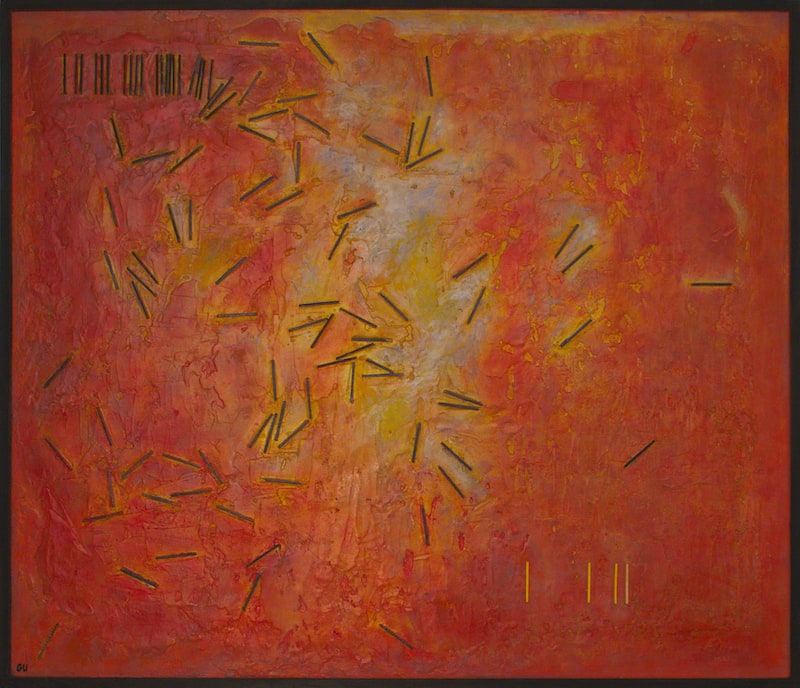 Seule, devant ma toile, j'ai confiance, l'aventure commence!
J'explore une réalité qui ne peut pas être vue, mais ressentie. Étant curieuse je suis fascinée de me sentir à la foi vulnérable et habitée. Mon travail a lentement évolué par se concentrer sur l'expression en tant que métaphore de ma recherche, en utilisant de signes symboliques, des couleurs et des traits de pinceau qui se mêlent à mon intuition et certainement à mes premiers acquis linguistiques. Je utilise pour cela l'acrylique et l'huile.
Toujours nourrie par les maîtres anciens et leur palette de couleurs, les Vénitiens bien sur, Titian, Tintoretto et beaucoup d'autres, mais aussi Poussin, Rubens, Cézanne, Bonnard, Nolde, Ensor, Hodgkin et l'ampleur de mouvement des Expressionnistes américains abstraits.
Dans mon atelier je voyage, j'essaie d'exprimer avec force mes sentiments au travers d'images dramatiques intuitivement composées. Le portrait m'aide à mieux incarner la réalité car j'aime relations humaines et les rencontres sont pour moi un défi artistique.
Facing the white of a canvas, I need to have confidence in myself before my adventure begins, because I am about to explore the reality which cannot be seen, but which is felt. Being curious, I am also fascinated by the qualities of feeling vulnerable and empowered at the same time.
My work has slowly evolved to focus on expression as a metaphor for this search, using symbolic signs, colours and vigorous brush marks which I combine intuitively, and certainly because of my early background in linguistics. Not painting from direct observation, when acrylic paint becomes alive, is a curious hit-or-miss process.
Always nurtured by the past masters of the visual expression and the rich colour palette of portraits by Titian and by the energy of Tintoretto, I have also been influenced by Poussin, Rubens, Cézanne, Bonnard, Matisse, Nolde, Ensor, the Abstract Expressionists and finally, Hodgkin.
In my studio I travel into the unknown, trying to express with force my feelings in dramatic and rhythmical images composed intuitively. There is another aspect to my work which helps me feel more grounded: it is portraiture. Because I treasure human company I enjoy working with sitters on their portraits. Using observational skills I face the challenge of capturing in oil paint the personality as well as the Mediterranean light indoors.
Gosia Urbanowicz, January 2018